Our Product
We have been selling trampolines in Thailand for 5 years and were the 1st
to offer high quality trampolines at reasonable prices. We have learnt through
experience what makes a trampoline last in harsh Thai conditions and have
improved and continue to improve our product.
Whilst some competitors have come and gone, others are offering inferior product at
slightly lower prices. We stock a full range of spare parts for our loyal customers
if you need replacement parts in the years to come. In fact, we regularly supply spare
parts for people to use on their trampolines which they purchased from another company.
Our trampolines are approved by TUV laboratories to meet German Standards.
<![if !vml]>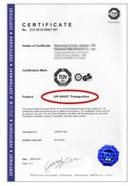 <![endif]><![if !vml]>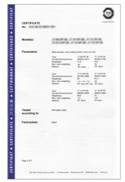 <![endif]>
Product Specifications
Steel Tubes
Hot dip galvanized inside & outside, 120g/m2 zinc coating
(Including Leg Base, Leg Extension, Top Rail, Net Poles)
Jumping Mat
280g/m2, woven fabric with PP(polypropylene) filament, UV-resistant, Fade-resistant, heavy duty.
Springs
Galvanized high strength steel wire, corrosion resistant.
Frame Pad
310g/m2 PVC + 14mm EPE + 130g/m2 PE
Upper PVC (polyvinyl chloride): 500D, water proof
Middle 15mm EPE foam: closed cell foam, high density, mildew and deformation resistant
Bottom PE (polyethylene):
Safety Net (Enclosure)
PE (NOT TERYLENE) tight weave mesh.
Black, outside Frame Cover, with PVC sleeve (NOT PE)
Zippered entrance, bottom with elastic hooks
Net Poles
Hot dip galvanized inside & outside, 120g/m2 zinc coating.
Poles reach all the way to the ground providing greater stability and less chance of bending.
The poles is attched to the trampoline using specially designed clamps.
Beware - some trampolines use a short pole bolted through drilled holes in the trampoline legs.
This reduces the strength of the legs and also reduces the length of the pole attached to the trampoline
base which increases the chance of the safety net poles bending.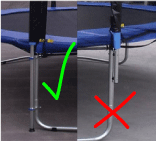 Poles have a combined upper + lower pole, each wrapped by EPE foam tube
EPE foam tube: Φ48mm×10mm thick, blue in colour.
1 year warranty on trampoline for home use.